Passenger Baggage
Information
Baggage Allowances
Your baggage allowance is dependent on the type of fare you have purchased, and is shown on your itinerary.
Domestic and Regional Seat Only Fares
Seat Only fares include a carry-on allowance of 7 kilograms only. There is no checked baggage allowance on this fare type and due to operational constraints we cannot guarantee that additional checked bags or excess weight can be purchased. We therefore advise to purchase Seat + Bag or Flexible fares if you plan to take more than the cabin baggage allowance.
Please note that carry-on baggage may be weighed at the boarding gate and excess above 7 kilograms will only be accepted if space permits and excess charges paid. We may require that some of your carry-on allowance be stowed in the baggage hold if cabin space is restricted. This will be decided at the boarding gate and there is no charge for stowing hand carry in the hold.
Excess Baggage
Excess baggage will be accepted for carriage on the same flight subject to space availability and payment of excess baggage charges:
NZ$ 3.50 per additional kilogram domestic, NZ$ 7.50 per additional kilogram Regional and Northern Group
Baggage Storage
Air Rarotonga offers Baggage Storage to its customers at Rarotonga International Airport at affordable daily rates. Please enquire when you check in or click here for more information.
Oversize Baggage
Oversize baggage and sporting equipment will be carried as space permits. The weight limit for a single piece is 32 kilograms and the maximum length is 2 metres. Excess baggage rates apply to oversized items.
Fully Flexible and Seat + Bag Fares
Fully Flexible and Seat + Bag Fares include a single piece of checked-in baggage weighing up to a maximum of 23 kilograms, with the dimensions not exceeding 158 centimetres in linear measurement (Width+height+length).
In addition, you are entitled to carry-on personal items such as laptops, cameras and baby's needs totaling not more than 7 kilograms. As storage space in the cabin is limited, these items must be able to be stored underneath the seat – or on Saab 340 services, in the overhead locker. In some cases our ground staff may need to ask you to store your cabin baggage in the aircraft hold before boarding.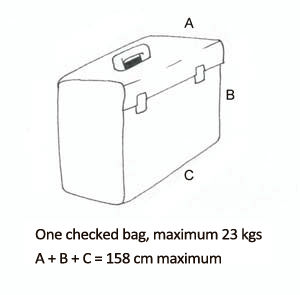 Aitutaki Day Tour
The Aitutaki Day Tour includes a carry-on allowance of 7 kilograms only. There is no checked baggage allowance on this Tour fare. Please note that towels and quality snorkeling equipment are provided on board the tour should you decide not to bring your own. Cosmetic containers larger than 100 ml (i.e. your sun screen) ARE permitted on domestic flights in the Cook Islands. Note that some sunscreens are detrimental to coral. Eco friendly sunscreen is available on The Vaka Cruise.
Lost or damaged baggage
As hard as we try to ensure the best handling of your baggage and property while in our care, occassionally bad things happen. If we have damaged or lost your property please complete the details below and submit to us as soon as possible after the completion of your flight.
If you have lost or damaged baggage or property, please complete this form.
A Passenger Service Representative will contact you as soon as possible.