JetX Air Cargo
Air Cargo and Courier service to all Southern Cook Islands
Inter Island Air Cargo
JetX Cargo offers a solution to your inter-island air cargo needs.
Whether it is dry goods, freezer cargo, small machinery or whiteware, we will deliver it on time and with good care.
Scheduled Cargo Flights
Dedicated cargo flights to the Southern Group islands are scheduled each week according to demand. Booked/MUST GO cargo space is available on these flights where your shipment is guaranteed to travel.
Save with Space Available Cargo
If you're not in a hurry, we offer lower priced space available cargo rates for shipping on all regular scheduled passenger flights as space permits.
Express Courier
A convenient and fast way to send documents and small items between any of our airport depots. Express Paks (Maximum 1 kilogram) travel on the next available scheduled flight. These can be purchased from our Rarotonga Airport depot or our agents on each island.
Specialised Cargo
Our staff are qualified to provide specialised packaging and handling for consignments that include restricted or hazardous materials, taking the hassle out of shipping items such as paint, chainsaws, weed trimmers and motor scooters.
Want to send your pet koka? We have special pet travel carriers available for the carriage of small animals between islands. Dogs, cats, birds, baby goats, day old chickens – they're all special customers to us! (Remember though – some islands ban our canine friends).
A word about Dangerous Goods
Certain items such as inflammable fluids, firearms, chemicals and paints, (even things such as hairspray) are subject to special packaging and handling requirements – and some may even be banned from carriage on aircraft. Ask our agent for advice when you intend shipping anything that may fall into this category. Full information on Dangerous Goods can be downloaded from the Dangerous Goods section on this website.
It's important to understand our Conditions of Carriage
The carriage of cargo within the Cook Islands is subject to the Carriage of Goods Act 1998 and the Air Rarotonga Limited Conditions of Carriage. You enter into a Contract of Carriage when you sign an Air Waybill to consign your goods.
All cargo (except fragile, valuables, and inadequately packed cargo) is carried at "Limited Carriers Risk". This means that should your goods be lost or damaged while under our care, Air Rarotonga, if liable, will pay up to a limit of $1500 per unit of goods. The value of the goods will need to be proven.
If your goods are fragile (e.g. glassware) valuable (black pearls etc.), perishables (such as frozen or chilled foodstuffs), or inadequately packed, they are carried at "Owners Risk". JetX and Air Rarotonga will not be liable for any loss or damage. Such cargo is carried at your own risk.
You can download our full Conditions of Carriage on the following link, or inspect them at offices.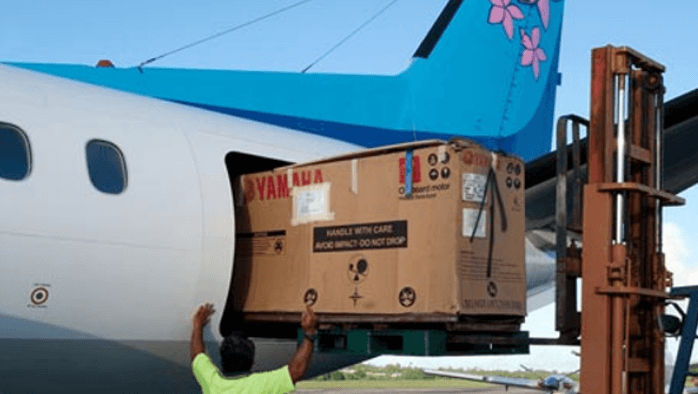 Contact Details
Business hours
Monday to Friday – 8am to 5pm
Saturday – 8am to 12noon
Sunday – closed
Cargo Services
If you have lost or damaged cargo, please complete the appropriate form below.
A Cargo Service Representative will contact you as soon as possible.
HOW TO FIND US
JetX Air Cargo is located at the Rarotonga International Airport left at the entrance and adjacent to the hangar.